Cinnamon is a spice that comes from the barks of wild trees that belong to the family Laureaceae - native to Sri Lanka, parts of India and southern China. There are hundreds of types of Cinnamon. But only 4 types or varieties of Cinnamon are used for commercial purposes. These are Ceylon Cinnamon, Cassia Cinnamon, Saigon Cinnamon and Indonesian Cinnamon.
Common Name

Scientific Name

Ceylon Cinnamon;
True Cinnamon;
Mexican Cinnamon

Cinnamomum Zeylanicum;
Cinnamomum Verum

Cassia Cinnamon;
Chinese Cinnamon

Cinnamomum Aromaticum

Saigon cinnamon;
Vietnamese Cassia;
Vietnamese Cinnamon

Cinnamomum Loureiroi

Indonesian Cinnamon;
Korintje Cinnamon;
Padang Cassia

Cinnamomum Burmanni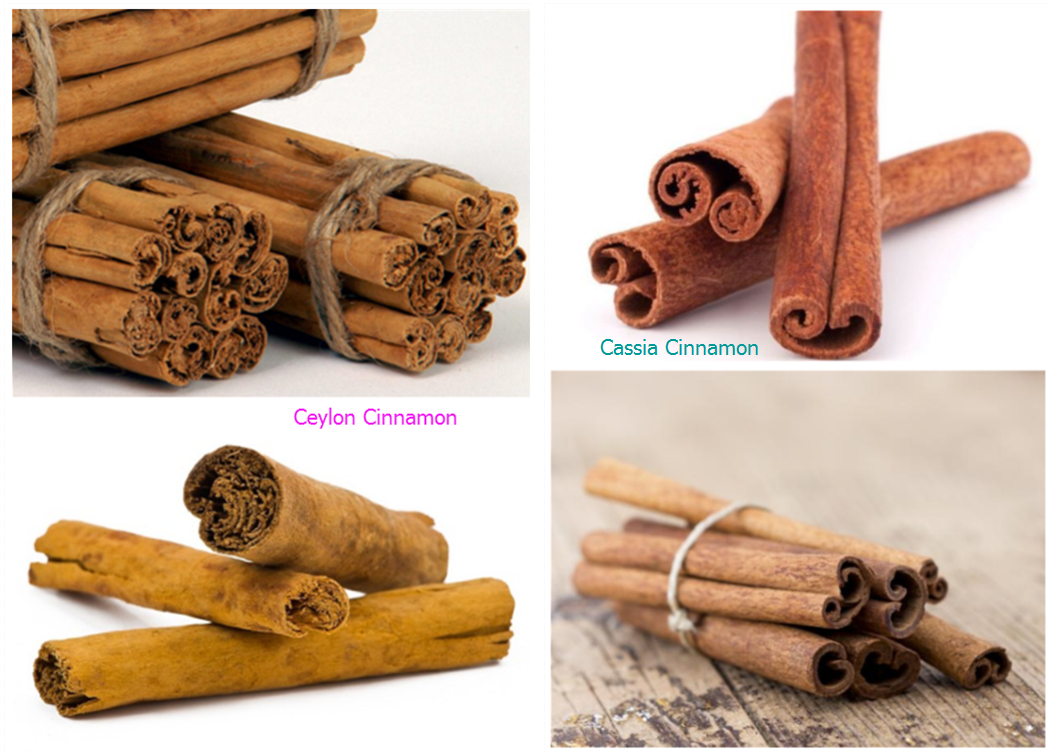 Differences between the 4 species
Ceylon Cinnamon sticks are soft, crumbly and rolled like cigar with layers of soft brittle Cinnamon bark. All other Cinnamon looks like the Cassia Cinnamon sticks and tends to be hard, hollow and have only one rolled layer. Ceylon Cinnamon is lighter in color while other Cinnamon tends to be darker in color.
All the species contain a toxin called coumarin, which can cause liver damage in high doses. Ceylon cinnamon, the one with lower levels of coumarin, however, is very expensive.
| | | | | | | |
| --- | --- | --- | --- | --- | --- | --- |
| Species | Origin | Tree Height | Taste | Color | Coumarin Content | Price |
| Ceylon Cinnamon | Sri Lanka, India, Madagascar, Brazil and the Caribbean | 32-49 ft. | Mild Sweet | Light to medium reddish brown | 0.017 g/kg | Expensive |
| Cassia Cinnamon | China | 32-49 ft. | Spicy Bitter | Dark reddish brown | 0.31 g/kg | Cheap |
| Saigon Cinnamon | Vietnam | / | Spicy Sweet | Dark reddish brown | 6.97 g/kg | Cheap |
| Indonesian Cinnamon | Indonesia | 22 ft. | Spicy | Dark reddish brown | 2.15 g/kg | Cheap |